Otvaranje WebMoney računa?
Jednostavno je otvoriti račun s WebMoney ako ga već nemate. Za otvaranje računa samo kliknite na ovu poveznicu.
Kad se registrirate i stavite novac na Vaš WebMoney račun, moći ćete odmah staviti depozit na Vaš ParisVegasClub račun i odmah početi igrati!
If you need additional help, click here to access the Help Desk page on their website.
Za tehničku podršku putem e-maila molimo kontaktirajte našu korisničku podršku na [email protected].
You can also contact the WebMoney technical support call center. You can find this on their Contact page on their site.
Pogledajte ispod listu telefonskih brojeva internacionalnih pozivnih centara za tehničku podršku.
+7 (495) 727-43-33 – Moscow.

+7 (812) 336-43-18 – St. Petersburg.

+1 (212) 202-66-06 – United States.

+44 (203) 239-60-39 - UK.
Upute
Start by going to //www.wmtransfer.com and select your desired language from the top right hand corner. Once you are ready press the "Sign Up Now" button.
Postoje 4 faze kod otvaranja Vašeg WebMoney računa i prva je unos i potvrda Vaših osobnih podataka.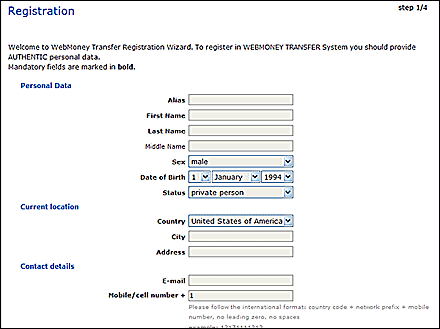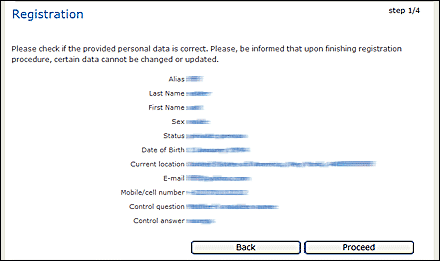 Imajte na umu da sve informacije moraju biti točne da biste nastavili dalje.
Idući korak je unošenje Vašeg registracijskog koda koji je poslan na e-mail adresu koju ste Vi naveli u svojim podatcima. Čim je kod potvrđen, bit ćete preusmjereni na stranicu za potvrdu Vašeg mobilnog broja.
This page contains instructions for sending an SMS from your phone for Mobile/cell verification.
Please wait for confirmation to proceed.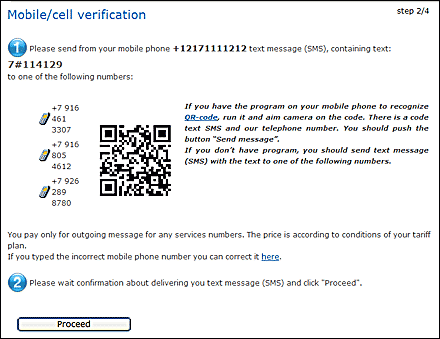 Kad zaprimimo Vašu SMS poruku, poslat ćemo Vam potvrdnu poruku.
Kad primite potvrdu, molimo Vas kliknite "Nastavi" da biste napravili svoj račun i završili proces registracije.
Availability depends on your country