Abrir una cuenta WebMoney
Es fácil abrir una cuenta con WebMoney, si todavía no tiene una. Solo haga un clic en este enlace para abrir una.
Después de haber registrado y financiado su cuenta de WebMoney, ¡usted podrá depositar instantáneamente en su cuenta ParisVegasClub y jugar!
If you need additional help, click here to access the Help Desk page on their website.
Si necesita apoyo técnico via correo electrónico, por favor contacte al Grupo de Apoyo a [email protected].
You can also contact the WebMoney technical support call center. You can find this on their Contact page on their site.
Encuentre a continuación la lista de los números internacionales del centro de llamadas del apoyo técnico:
+7 (495) 727-43-33 – Moscow.

+7 (812) 336-43-18 – St. Petersburg.

+1 (212) 202-66-06 – United States.

+44(203) 239-60-39 -UK.
Instrucciones
Start by going to //www.wmtransfer.com and select your desired language from the top right hand corner. Once you are ready press the "Sign Up Now" button.
Hay 4 pasos que necesita seguir para abrir una cuenta de WebMoney, el primer paso es llenar y confirmar sus detalles personales.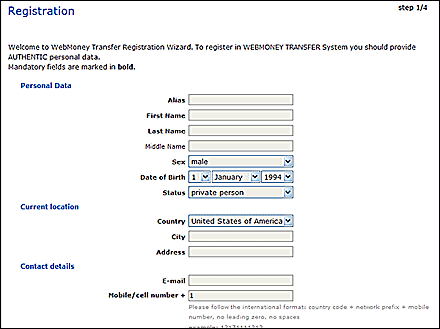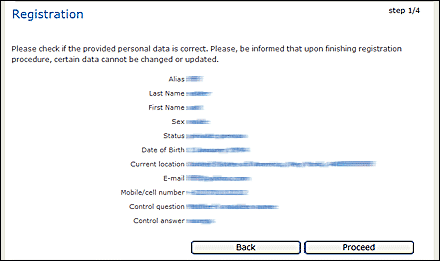 Por favor, tenga en cuenta que es necesario que toda la información escrita sea correcta antes de continuar.
El segundo paso es entrar su código de registro el cual fue enviado a su correo electrónico especificado en su información personal. Una vez que el código ha sido verificado, usted será re-direccionado a la página de verificación de Mobile/cell.
This page contains instructions for sending an SMS from your phone for Mobile/cell verification.
Please wait for confirmation to proceed.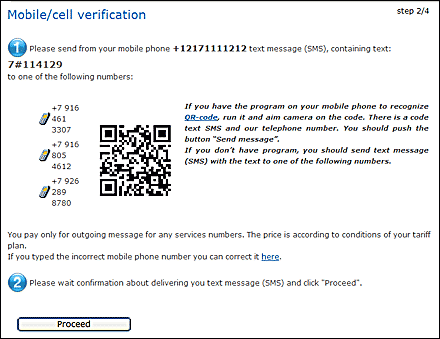 Una vez su SMS ha sido recibido nosotros le enviaremos un mensaje de confirmación.
Una vez usted ha recibido la confirmación, por favor haga un clic en "Proceed" para crear una cuenta y completar el proceso de registro.
La disponibilidad dependerá de su país