Aprire un Conto Moneybookers
Moneybookers è un metodo di pagamento online rapido e affidabile. I giocatori possono attivare un conto e finanziarlo tramite bonifico bancario o carta di credito/debito.
Raccomandiamo ai giocatori ParisVegasClub di scegliere Moneybookers per un pagamento online affidabile e credibile. E' istantaneo quindi puoi sfidare i tuoi amici a una partita da ParisVegasClub in pochi minuti!
It is very easy to open an account with Moneybookers. Just click this link to open one and select "Sign up now".
Ti preghiamo di notare che il loro sito è disponibile in varie lingue.
For English please select this link.
For Greek please select this link.
We have created a step by step guide to open a Moneybookers account if you need the extra help. Please click here.
Appena avrai registrato e finanziato il tuo conto Moneybookers, potrai immediatamente depositare fondi nel tuo conto ParisVegasClub.com e cominciare a giocare entro pochissimo tempo!
If you need help with depositing then you can access their FAQ's (Frequently Asked Questions) and then select "Deposit".
Moneybookers ha un proprio Centro di Assistenza Telefonica: +44 870 383 0232
Inoltre forniscono anche un utile servizio di segreteria online.
L'importo minimo di deposito con Moneybookers è $20, mentre per i prelievi non esiste un limite massimo.
Non ci sono spese per utilizzare Moneybookers per prelevare vincite oppure effettuare versamenti al nostro casonò.
Istruzioni
Bastano quattro semplici passi per aprire un conto con Moneybookers. Visita www.moneybookers.com/app/ e seleziona "Registrami Adesso".
Tipo di Conto
Verifica dell'email
Personal details
Conferma
Moneybookers esige le informazioni seguenti per accertarsi della tua identità.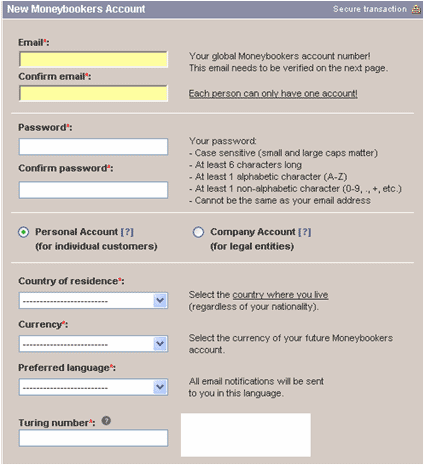 Dopo aver completato la pagina, ti verrà inviato un messaggio email alla tua casella di posta elettronica contenente un collegamento.
Controlla la tua casella di posta e fai clic sul collegamento per convalidare il tuo indirizzo email e poi prosegui con la registrazione.
A questo punto inserisci nei campi i tuoi dati personali.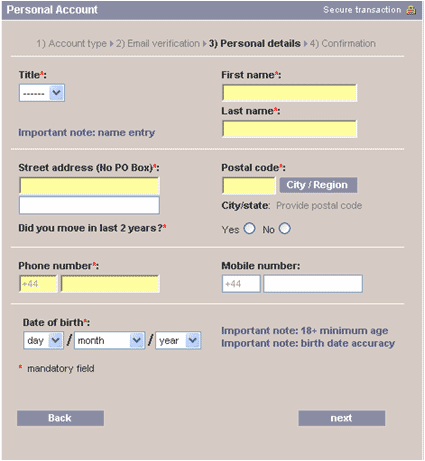 Dopo aver inserito i tuoi dati fai clic su "Avanti".
Riceverai conferma dei tuoi dati personali.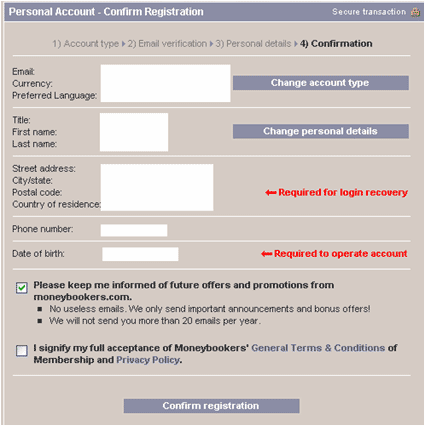 Spunta la casella "Accetto" per confermare che hai letto e accettato i Termini e le Condizioni Generali d'Uso e schiaccia il pulsante "Conferma Registrazione". Hai appena aperto con successo il tuo conto Moneybookers.
Availability depends on your country